Canadian Hindus
From Wikipedia, the free encyclopedia
Hindus in Canada generally come from one of three groups. The first is comprised primarily of Indian immigrants who began arriving in British Columbia about 100 years ago and continue to immigrate today. The second major group of Hindus immigrated from Sri Lanka, going back to the 1940s, when a few hundred Sri Lankan Tamils migrated to Canada. The 1983 communal riots in Sri Lanka precipitated the mass exodus of Tamils with over 500,000 finding refuge in countries such as Canada, UK, Australia, Germany, France and Switzerland from then Sri Lankan Tamils have been immigrating to Canada in particular around Toronto and Greater Toronto Area. On the one hand, a war is being waged for a separate Tamil homeland within the small island currently named Sri Lanka. On the other hand, efforts are being made throughout the world to make Sri Lankan Tamil culture better known to, and understood by, non-Tamil peoples, toward the end of establishing cross-cultural and cross-national alliances. A third group is made up of Canadian converts to the various sects of Hinduism through the efforts of the Hare Krishna movement, the Gurus during the last 50 years, and other organizations.
According to the 2001 Census of Canada, there were 297,200 practitioners of Hinduism.[1] However, the non-profit organization Association for Canadian Studies estimates the Hindu population grew to 372,500 by 2006, or just under 1.2% of the population of Canada.[2]. The vast majority of Hindus reside in OntarioToronto, Scarborough, Brampton, Hamilton, Windsor & Ottawa), Quebec (primarily around the Montreal area) & British Columbia, (primarily around the Vancouver area). Have significant populations.
Opening Canada's largest Hindu Temple
Dr.Subramanian Swamy interview on Hinduism with CTS TV Canada
Hindufest by Hindu Youth Network - Toronto
Hindu Conference of Canada Interview Part 1
Iskcon Canada

Canadian Hindu Temple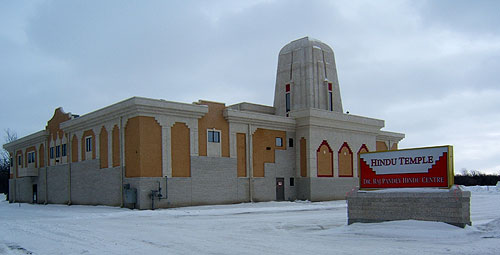 Early Hindus
Early Hindus maintained their religious traditions in mostly hostile environment which viewed the so-called
colored
immigrants as a threat to the British culture and way of life of the time. These male pioneers could not marry brides from
India
up until the 1930s, and did not have the right to vote in Federal elections until 1947. Religious life was centered around homes and
Bhajans
organized by community members.
Hindu converts
Since
1960s
many westerners attracted by the world view presented in Asian religious systems including
Hinduism
have converted to Hinduism. Canada was no exception. Many native born Canadians of various ethnicities have converted during the last 50 years through the actions of
ISKCON
,
Arya Samaj
and other missionary organizations as well as due to the visits and guidance of Indian Gurus such as
Guru Maharaj
,
Sai Baba
, the controversial
Rajneesh
and others.
Recent immigrant Hindus
Due to the liberalization of Canadian immigration policies many Hindus from
India
,
Pakistan
,
Bangladesh
,
Sri Lanka
,
Trinidad
,
Guyana
and Eastern
African
nations such as
Kenya
,
Uganda
and
Tanzania
along with
South Africa
have arrived in the metropolises of
Montreal
,
Toronto
,
Calgary
and
Vancouver
.
Temple societies
See also: Hindu Temples in Canada
These communities have formed over 1000 temple societies across the country that essentially functions community organizations. Some of these associations also have established private schools in Tamil to compete with non-religious and Catholic school boards that most Hindu students go to.
The largest
Hindu temple
in Canada is
BAPS Shri Swaminarayan Mandir Toronto
. It consists of two separate buildings, one of them being the mandir itself and the other being the Haveli, home to a large Sabha Hall, several religious bookstores, a small prayer room, the country's largest Indo-Canadian museum, a water fountain and a large gymnasium. It is the only Mandir built using Hindu traditions. It took $40 million to build and opened in 2007, surpassing Hindu Sabha Temple in nearby Brampton, which held the old record. The entire mandir is 32,000 sq.ft.
Organizations
There are several organizations representing the Hindu community in Canada. Among them the Hindu Canadian Network
is the most prominent umbrella organization.
Hindu Youth Network
is currently the largest Hindu youth movement in Canada with 6000+ registered members and over 80% of the Hindu student groups in the country under its umbrella.
Others include the Hindu Sabha temple, and the World Maha Hindu Organization, a cultural organization.
External links
Hindu Groups in Canada