Source
News at Rediff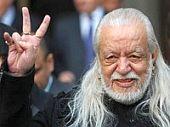 An Indian-origin social and spiritual leader in the UK on Wednesday won the right to be cremated in an open air funeral pyre according to Hindu rituals, ending a prolonged legal battle.
In a landmark judgment, Britain's Court of Appeal granted Davender Ghai, 71, the right to be cremated after his death in an open-air funeral pyre.
Delighted at the ruling, Ghai said the verdict had "breathed new life into an old man's dreams. I always maintained that I wanted to clarify the law, not disobey or disrespect it."
Since open-air cremations anywhere outside a crematorium have been prohibited in Britain under the 1902 Cremation Act, many India [

Images

]n-origin families in Britain take bodies of their deceased relatives to India for cremation according to Hindu rites.
Ghai has been campaigning for the right to be cremated according to his Hindu beliefs for several years and sought legal redress.
The Law Secretary opposed his bid for Britain to allow open-air funeral pyres on the ground that people might be "upset and offended" by pyres and "find it abhorrent that human remains were being burned in this way".
In a statement to the court, Ghai had said: "I will not deny my claim is provocative, least of all in a nation as notoriously squeamish towards death as our own. However, I honestly do not believe natural cremation grounds would offend public decency -- as long as they were discreet, designated sites far from urban and residential areas."
In 2006, the Newcastle City Council had forbidden him from organising Hindu-style cremation. Ghai is the founder of the Anglo-Asian Friendship Society (AAFS) based in Newcastle.
However, the Court of Appeal on Wednesday ruled that the pyre would be lawful after Ghai said it could include walls and a roof with an opening.
The Court of Appeal understood my request was consistent with both the spirit and letter of the law and my only regret is that tax payers' money would have been saved had that been recognised in 2006.
Ghai added: "My request was often misinterpreted, leading many to believe I wanted a funeral pyre cremation in an open field, whereas I always accepted that buildings and permanent structures would be appropriate."

The campaign was sparked by the unique case of an illegal Indian immigrant, who drowned in a canal in Southall, west London [

Images

], in December 2005.
Nobody came forward to identify him or report him missing. After six months of forensic analysis, the Metropolitan Police retrieved a number from his water-damaged mobile phone. Ghai answered a call to the number.
It transpired that the man had once attended an AAFS advice surgery in Newcastle. The group's records revealed that he was Rajpal Mehat, the son of (late) Amarjit Singh.
Ghai contacted Rajpal's distraught mother and sister in Punjab [

Images

], who pleaded for traditional Hindu cremation in Britain since the Coroner refused permission to fly Rajpal's body to Punjab.
Amidst lack of clarity about cremation laws, the Northumbria Police were consulted and permitted Rajpal's natural open-air cremation, which took place on private farmland in Northumberland.
However, the police later stated that offences "may" have been committed under the cremation laws, but the Crown Prosecution Service declined to prosecute.
Ghai, who has been in poor health, said: "I have lived my entire life by the Hindu scriptures. I now yearn to die by them and I do not believe that natural cremation grounds -- as long as they were discreet, designated sites far from urban and residential areas – would offend public decency.
"My loyalty is to Britain's values of fairness, tolerance and freedom. If I cannot die as a true Hindu, it will mean those values have died too."