Source
http://news.oneindia.in/2010/04/01/
Monday,April 05,2010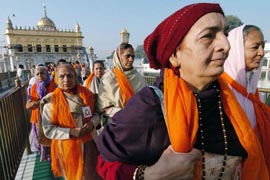 Amritsar,
(ANI): Pakistani Hindus have urged India to relax visa norms for pilgrims.
"The visa norms are a problem. We should be given more chances to come here. People in Pakistan wait for visas to be issued. If visa rules are relaxed, more delegations will come every year," said Pawan Kumar, a pilgrim.
The 250-member group, which arrived on March 3, is currently on a month-long pilgrimage tour of India.
The pilgrims have paid obeisance at various temples across the country before reaching Amritsar.
"Yes, the visa rules should be little softer. I have come to India after 10 years. I had applied for visa twice before, but could not get it. But this time, I got the visa. Otherwise, we have received love and support from the people of India," said Arjan Dass, a pilgrim.
The group will leave for Pakistan on Saturday. By: Ravinder Singh Robin(ANI)