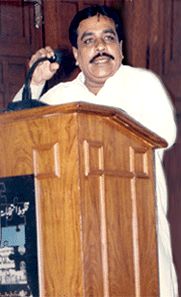 Sudham Chand Chawla

My Self Sudhamchand R. Chawla. I was borne in Haji city of Bluchastan state. I had come in Jacobabad of Sindh State in 1968 from Haji city. There I was admitted in Hamidiya High school where I found good unity among Hindu & Muslim people. We Hindu & Muslim participated in many social work together. It was that time when Zulf Ali Bhutto was the PM of Pakistan. He inspired us for save to the people, Hindu-Muslim unity. In this way I inspired form Bhutto and participated together with all students in Sindh Piples Students Federation. I was elected as president of this Federation and we did many socially desirable work.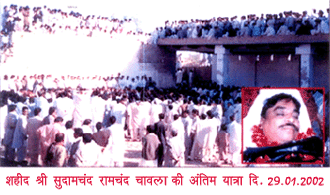 When govt. order to hang the Bhutto till the death. "Bhutto Bachav" moment get started and we excitingly participated in it. Govt. arrested many people during this moment and I was one of them. At last that black day came when Bhutto hanged till the death. Then General Zia was the PM of Pakistan who was Chief Air marshal. He passed an ordinance to start separate electorates system for Hindu minorities instead of point election. I decided that time, I will start the moment to protest against this ordinance. But due to Millitary regime in Pakistan, it was not possible to protest against the ordinance of Zia. We continued our Social work. Then I was appointed as a member of Municipal Corporation for two time. During my membership period I was served to the Hindu class people I said to my Hindu class people "Why shouldn't we protest against being treated as fourth class citizens? Under the electorates system in Pakistan. Minorities including Hindus have a separate electorates. At that time all major decision of the Hindu class people were taken by Jakhrani Sardar. He illegally forced to Hindu people to act accordingly to his decision He was history sheeted criminal according to the police record. At last we succeed in our moment to awake the people from Jakhranis crime and first time Hindu class people appointed me as a president in Hindu Panchayat Hall. During my president ship. I emphasized on unity of Hindu & Muslim people. I served to Hindu class people

In 1997,Mohamed Jakhrani's sons and some Hindus who were his worker, fought with my sons and looted my oilshop,of which I have registered an FIR(FIR.no.53/97) in the City Police Station.That time Baqa Mohamad son's were arrested but they were jailed only for 10-12 days.

Then I had decided to start moment against ordinance of General Zia. In Gotki districts meeting was called by Panchayat of Bluchastan Sindh and other states, where MRJ moment was made against the ordinance. In this meeting they elected me as a convener of the moment. Then offer we had called a big meeting in Jacobabad where reporter of BBC London and other reporter had called to get coverage of the meeting. In the meeting if was decided to boycott the local council electron.

Every Panchayat encouraged the men and women of hindu community to join the moment and they actively participated in hunger strike. This way in Pakistan's history for the first time, women in large number were on hunger strike in Jacobabad city. BBC news channel has specially sent its editor for this event coverage and rest of news reporters also joined the same.Panchayati hunger strike meeting held in many different cities and govt.elections were strongly boycotted. Leaving entire hindu community and christian seats,all seats were empty. Barring these seats, Govt.did elections on rest of the seats. In that election, deputy district Nazim Ajaz Jakhrani and Town Nazim Jakhrani were elected in Jacobabad local govt.Soon after, they used to threaten me.They are interfering in the affairs of Hindu Genral Panchayat. Aijaz Jakharani Deputy District Nazim and Mumtaz Jakhrani Taluka Nazim of Jacobabd here got old enmity with me, they got robbed my shop in the year 1997 and such FIR was registered with the police, they now want to take revenge from me. Both Aijaz & Mumtaz Jakhrani now press me that I should tender resignation from the presidentship of Hindu Genral Panchayat Jacobabad. They intend that after my resignation I may be murdered. I am ready to make election of Hindu Genral Panchayat 99% people belonging to minority community are with me & they are fulfill with me. I am requesting to Sindh Government, Human rights, Cor. Commander, Sindh & others that to send your team or representatives to Jacobabad, in order to see my majorities & to see the interference of Jakhranies in the affairs of the Hindu Genral Panchayat. I am further requested to district administration be asked to stop interference of Jakhranies in the affairs of Hindu Genral Panchayat because they have got no concern with we minority people.

Kandh,Kot,Thul and Kahmore panchayat intervened, talked with DPO and decided to do re-election for Hindu Panchayat President ship. Election committee members were selected from Thul, Khand, Kot and Kashmore panchayat and they were given responsibility for the fair election.Jakhrani stood Dr.Hari Dass aginst me in the elections.Pressurised hindus for the win of Dr.Hari Dass. But I had a strong faith that Hindus will vote seeing my work and devotion towards them. After all elections took place and I got elected with 75% votes. After some time joint election's efforts bore fruit and Mussharraf govt cancelled the ordinance of General Zia and announced joint election. We celebrated this with zeal and joy and also appealed hindu community to register their names in the voter list. Unfortunately one day, Jakhrani killed me. But he didn't knew that from live Sudham Chand to dead Sudham Chand will bring him to the noose of death.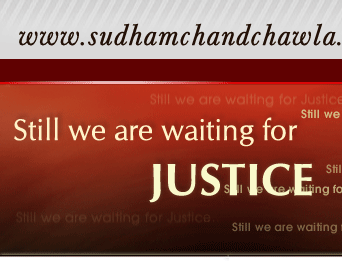 Fact-finding into murder of Sudham Chand Chawla :


.

February: Jacobabad: Fact-finding into murder of Sudham Chand Chawla. The noted minority leader and president Hindu Panchayat, Jacobabad, Sudham Chand Chawla, who mobilised a boycott of past elections to demand a joint electorate was murdered in the busy bazar of Jacobabad, city on January 28. Chawla was also a member of HRCP. His brother lodged an FIR nominating deputy district nazim Aijaz Jakhrani and others including a former MNA Babul Kakhrani. Police failed to arrest culprits who later on obtained bail from the court. The complainant and his family now fear for their lives. Mr. Ali Hasan, Vice Chairperson, Sindh went to Jacobabad to meet the aggrieved family and the members of the community.




Press Release on Sudham Chand Chawla :


.


Press Release (June 27, 2006)




information by Hindu Students Council



It is to the credit of the peaceful Hindus that they have never taken to armed resistance, not even once. However, any sign of peaceful Hindu protest is brutally crushed by the Islamic regime. Their most prominent leader, Sudham Chand Chawla, regarded as the Mahatma Gandhi for the Hindus in Pakistan, was killed by government death squads on January 28, 2002. Chawla's only crime was he waged a peaceful struggle to restore usurped land belonging to the Hindus and for pursuing a successful legal battle against the government to restore equal voting rights to the Hindu minority. The separate electorate system which had been in effect since 1984 subjected the people of Pakistan to an electoral system which discriminates on the basis of religion. This system denied religious minorities their right of universal adult franchise.



Pak Hindu leader wins ballot battle, falls to bullet






Author: Vivek Deshpande




Publication: The Indian Express




Date: February 1, 2002



A Prominent leader of the Pakistani Hindu community, Sudham Chand Chawla, who successfully fought a legal battle to ensure voting rights for Pakistani minorities, was shot dead by unidentified assailants in the Pakistani city of Jacobabad on Monday. This was revealed by relatives of the slain leader to mediapersons here.Pakistani newspapers such as The News and The Dawn carried the news of the killing which largely went unnoticed in India. A pall of gloom descended on the Chawla residence here when his relatives heard it on BBC Radio the same night. According to his brother Jagdish, who resides here along with three other brothers, Chawla was scheduled to meet the Jacobabad collector in connection with the electoral rolls when he was shot dead.

the Pakistan Supreme Court had restored voting rights to minorities a fortnight ago following Chawla's sustained efforts. "Some Muslim organisations, too, helped him in his endeavour but the fundamentalists probably didn' like it and hence killed him," he said. Chawla, 45, was president of the Hindu General Panchayat and the Jacobabad district chief of Pakistan People's Party (PPP). He was one of the prominent Hindu leaders and was popular among Muslims too. gathered at his residence and Jacobabad observed an impromptu bandh when the news of his death spread.

Hindus staged a highway blockade which was eased after the administration promised to nab the culprits. "Sindh traders observed a three-day bandh to protest the killing," Chawla's son Santosh said. Sudham Chand, who owned a rice mill, is survived by his widow, a son and a six-month-old daughter in Pakistan and three sons, Santosh, Manoj and Inder who moved to Nagpur a few years ago. One of his brothers Kanwarlal is in Jacobabad while four brothers, Jagdish, Ashok, Kishor and Daulat, had left Pakistan 25 years ago to settle down in Nagpur. Sudham Chand was the eldest. His mother,too, is here for the past one year while his father is dead.

According to family members here, Chawla had loved the Pakistan SC three years ago seeking restoration of voting rights to minorities. "He was helped by people such as former speaker of Pakistan's National Assembly Elahi Bukhsh Soomro," Jagdish said. "He also valiantly fought for restoration of land which rightfully belonged to the Hindus," he said. Sudham Chand was elected a corporator in Jacobabad first in 1983 and then in 1987. In 1990, he bacame president of the Jacobabad PPP and in 1994 became its district chief. In 1996, during Benazir Bhutto's reign, he was named the chief of Upper Sindh unit of the PPP, according to family members. "His killing has created a feeling of insecurity among Pakistan Hindus and the Government of India should do something about it," Jagdish said.
Our Aim


.

It is not fair with me that my brother has being murdered in the busy bazaar. His crime was that he made the free to the Hindu community from the crime of Jakhrani Family so that they can freely take their decision and live happily without under anybody's pressure. His crime was that he fought for the joint election for the betterment of Hindu community, he fought against the separate electorates system of Pakistan, he fought for the humanity of the society, he fought against the unfair treatment which had been giving to the Hindu community. Sudham Chand Chawla wished to equal voting rights and joint electorates system in Pakistan for the betterment of Hindu people. My brother was the great Hindu leader. But now I want justice because it is not only my demand but also entire Hindu community demand. Now, more than 6 years had been passed but Pakistan government did nothing for the Sudham Chand Chawla's case. I am requesting to Pakistan government to conduct a fair enquiry in this case not for me or single person but also for humanity.

I wish to take help of Indian government along with the Pakistan government. So I request to Pakistan government to conduct international inquiries in which it should take the help of Crime Branch of India for my brother's case. At last I want that culprits must get arrested soon and strictly punish them for their crime. So my humble request to those who are reading about this great man Sudham Chand Chawla, that please contribute your little efforts for getting me justice so that humanity may remain alive and again such a crime must not happen with another Hindu leader in future.
Please support,share this info and Contact us
.


info@sudhamchandchawla.com
.
www.sudhamchandchawla.com